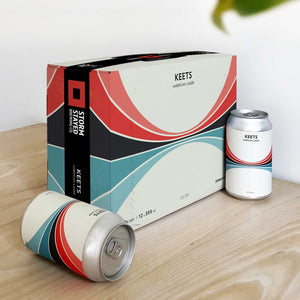 KEETS Fridge Filler

American Lager 12-Pack

Twelve 355 mL Cans • Easy- Carry Handle • Easy-Access Box
Conveniently carry twelve 355 ml cans of easy drinking, effervescent American Lager. This crowd-pleaser uses North American 2-row malt and flaked corn, and is light-bodied with a crisp finish.
At $30 even, it's a savings of $2 compared to two KEETS 6-packs.
Available for Brewery Pickup and Local Delivery only.
4.8%  |  12 x 355 ml